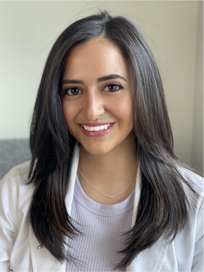 Deanna Vallejo
Chiropractor – The Spine and Health Center of New Jersey
Dr. Deanna Vallejo was born in Bethpage, New York and has lived in several locations spanning from Stamford, Connecticut to Santiago, Chile. She is a licensed Chiropractor in both New Jersey and New York and received her Doctorate at the University of Bridgeport School of Chiropractic. She holds a Bachelor of Arts in Public Relations with a dual minor in Advertising and Marketing.
Dr. Deanna utilizes a variety of treatment approaches with patients including chiropractic manipulation, Fascial Manipulation, flexion distraction, Instrument Assisted Soft Tissue Manipulation, cupping technique and more. Her past working experience in Public Relations has helped Dr. Deanna to become an excellent communicator with proven ability to establish rapport and trust with colleagues and patients. Bilingual in English and Spanish, she strives to make sure that language barriers will never get in the way of understanding someone's problems, nor restrict patients from understanding how treatments can be beneficial to them.
While pursuing her degree in chiropractic, Dr. Deanna was very involved in the student government association and served as the Public Relations Liaison during her second year of the program. She assisted in managing the social media accounts for the Chiropractic Program throughout her time at University of Bridgeport School of Chiropractic and was an active member of the Dean's Council. Dr. Deanna was the recipient of the Director's Award for outstanding service to the University during the program, the Clinic Excellence Award for exceptional clinical care rendered to patients, the Richard E. Vincent Student Leadership Award in recognition of outstanding leadership demonstrated by serving as a positive role model and advocating on behalf of the student body.
She is a certified practitioner of The Stecco Method Fascial Manipulation (FM) and holds a FIFA Diploma in Football Medicine. In her spare time, Dr. Deanna enjoys exercising, watching movies, eating Italian food, playing with her German Shepherd, and spending time with friends and family. Dr. Deanna is always eager to learn and continues to pursue various certifications to assist her in the field of Chiropractic.
Bergen County Chamber of Commerce, is excited to announce "Member Monday"! Every Monday we plan to highlight a Bergen County Chamber member by sharing an email blast containing either the member's professional summary or an article written by the member about a topic within their industry. Every "Member Monday" email blast will contain the featured member's contact information as well as a link to the member's website. "Member Monday" provides value to our members by allowing them to highlight themselves in front of the rest of the chamber.
To be featured click the link below: