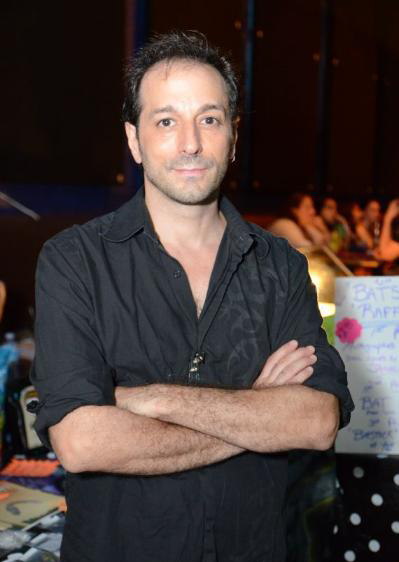 Joseph D'Angeli
Director –

The Wildlife

Education and

Conservation Center
For over 20 years, Joseph D'Angeli has been known worldwide as, the "Bat-Man" of NJ. 
Mr. D'Angeli is a State and Federally licensed bat educator and exhibitor. Since his emergence back in 1992 he has appeared at THOUSANDS of schools, libraries, zoos, nature centers, science centers and The Iconic American Museum of Natural History. His beautiful bats have also appeared in numerous TV shows and periodicals- including the NY TIMES, BERGEN RECORD, STAR LEDGER, REGIS AND KATHY LEE, HISTORY CHANNEL'S "MONSTERQUEST", SCIENCE Channel's "ODDITIES", Discovery Channel's Expedition X and most recently, Mr. D'Angeli and The Center that he founded were featured in the CNN Documentary "Bats-and The Mystery Behind Covid-19" with Anderson Cooper.  
As the Director of The Wildlife Education and Conservation Center, a non-profit 501 (C) (3) organization, Mr. D'Angeli's "Bat-Cave" is the only facility in the Tri-State area specializing in, and centering on, bats and bat conservation. Affectionately known as NJ's "Bat Cave" they also pride themselves in being the area's ONLY center housing and exhibiting LIVE exotic bats from around the world INCLUDING, C.I.T.E.S protected Giant Flying Foxes-a bat with a FOUR-foot wingspan! 
The Center has become a permanent home for unwanted, abandoned, and confiscated exotic animals. Reptiles, small animals, giant tarantulas and many others have found a forever home at our center. The center works closely with local animal shelters to provide homes for the more "unconventional" animals that arrive at shelters and animal rescues. These animal ambassadors also help educate many thousands of school children and adults every year. The center is open to the public and available to organized groups for private events, lectures, programs and even educational birthday parties.  
Mr. D'Angeli and his staff have also been involved with raising awareness, as well as funds, for research into finding a cure and treatments for White Nose Syndrome, a disease that has been killing off U.S. bats in record numbers since its discovery in winter 2006/2007, resulting in the over abundance of mosquitoes and pest insects.  
The center has stirred interest in bats once again due to the possible connection between bats and Coronavirus. "Every time we take a step forward in bat conservation, we get knocked back 2". We now know that there is no proof between bats and the origins of Covid-19 
There are over 1,400 different species of bats throughout the world. They are found on every continent except Antarctica and they make up almost a quarter of the earth's mammal population. They are protected in nearly every country in which they are found as they are vitally important to each and every ecosystem and environment that they inhabit.
For more information, please go to WWW.NJBATMAN.COM or WWW.THEBATCAVE.ORG 
Or call THE WILDLIFE EDUCATION AND CONSERVATION CENTER at: (201)-257-2231   
Bergen County Chamber of Commerce, is excited to announce "Member Monday"! Every Monday we plan to highlight a Bergen County Chamber member by sharing an email blast containing either the member's professional summary or an article written by the member about a topic within their industry. Every "Member Monday" email blast will contain the featured member's contact information as well as a link to the member's website. "Member Monday" provides value to our members by allowing them to highlight themselves in front of the rest of the chamber.
To be featured click the link below: